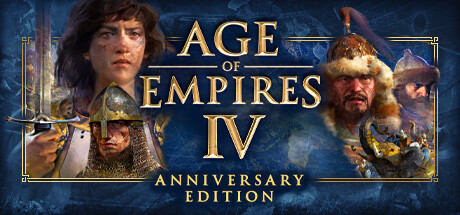 Age of Empires IV
Details
Store Page: http://store.steampowered.com/app/1466860, https://www.microsoft.com/en-us/p/age-of-empires-iv/9n94ncgm1q2n
Website:: https://www.ageofempires.com/games/age-of-empires-iv
Genre(s): Strategy
Developer: Relic Entertainment, World's Edge
Publisher: Xbox Game Studios
Release Date: 28 Oct, 2021
Language(s): English*, French*, Italian*, German*, Spanish - Spain*, Japanese, Korean*, Portuguese - Brazil*, Russian, Simplified Chinese*, Spanish - Latin America*, Traditional Chinese, Turkish, Vietnamese
*languages with full audio support
Operating system(s): Image
Features
Image Single-player
Image Multi-player
Image PvP
Image Online PvP
Image Co-op
Image Online Co-op
Image Cross-Platform Multiplayer
Image Steam Achievements
Releases
Community
UWP (Win 10 1903/1909/2004/20H2/21H1, Win11 21H2)
Age of Empires IV + 4K HDR Video Pack [osb79] (GDrive Limit Bypass, 1fichier Bypass)
Loose files torrent [InsaneRamZes]
More GDrive mirrors [NOOB-GAMING]
Steam (NOT CRACKED)
Age of Empires IV [Pleasure0102] (clean files)
Misc.
Installing UWP version
osb79 wrote:
reminder: you need to install the xbox app and running it will ask you to install the dependencies https://www.microsoft.com/en-us/p/xbox/9mv0b5hzvk9z?activetab=pivot:overviewtab
extract the archive
enable developer mode.
Run AoEIV.bat
launch Age of Empires IV from the start menu.
ps: use a fake xbox live account.
Jourgensen wrote:
1 : Enable developer mode (search on google how or type developer settings in windows settings)
2 : Download xbox app on microsoft store
3 : Open the xbox app and install the first two required xbox app addons as the app will ask you
4 : Run the .bat in the aoe file
6 : Now you can disable developer mode
7 : Open xbox app, go in AOE IV, make a shortcut to your desktop so you won't need to open xbox app everytime
8 : Double click on the AOE IV shortcut
????
Profit the game with its shameful pathfinding and see the warriors twerking in glorious battles !
How to add UWP shortcut to desktop:
1. Run (Windows+R)
2. shell:appsfolder
3. Find Age of Empires IV
4. Drag the icon to desktop
About The Game
One of the most beloved real-time strategy games returns to glory with Age of Empires IV, putting you at the center of epic historical battles that shaped the world. Featuring both familiar and innovative new ways to expand your empire in vast landscapes with stunning 4K visual fidelity, Age of Empires IV brings an evolved real-time strategy game to a new generation.
Return to History – The past is prologue as you are immersed in a rich historical setting of 8 diverse civilizations across the world from the English to the Chinese to the Delhi Sultanate in your quest for victory. Build cities, manage resources, and lead your troops to battle on land and at sea in 4 distinct campaigns with 35 missions that span across 500 years of history from the Dark Ages up to the Renaissance.
Choose Your Path to Greatness with Historical Figures – Live the adventures of Joan of Arc in her quest to defeat the English, or command mighty Mongol troops as Genghis Khan in his conquest across Asia. The choice is yours – and every decision you make will determine the outcome of history.
Customize Your Game with Mods – Available in Early 2022, play how you want with user generated content tools for custom games.
Challenge the World – Jump online to compete, cooperate or spectate with up to 7 of your friends in PVP and PVE multiplayer modes.
An Age for All Players – Age of Empires IV is an inviting experience for new players with a tutorial system that teaches the essence of real-time strategy and a Campaign Story Mode designed for first time players to help achieve easy setup and success, yet is challenging enough for veteran players with new game mechanics, evolved strategies, and combat techniques.
System Requirements
Minimum:
Requires a 64-bit processor and operating system
OS: Windows 10 64bit | Windows 11 64bit
Processor: Intel Core i5-6300U or AMD Ryzen 5 2400G | CPU with AVX support required
Memory: 8 GB RAM
Graphics: Intel HD 520 or AMD Radeon RX Vega 11
DirectX: Version 12
Storage: 50 GB available space
Recommended:
Requires a 64-bit processor and operating system
OS: Windows 10 64bit | Windows 11 64bit
Processor: 3.6 GHz 6-core (Intel i5) or AMD Ryzen 5 1600 | CPU with AVX support required
Memory: 16 GB RAM
Graphics: Nvidia GeForce 970 GPU or AMD Radeon RX 570 GPU with 4GB of VRAM
DirectX: Version 12
Storage: 50 GB available space
Additional Notes: 4 GB of video RAM and 16 GB of system RAMAdditional Notes: 4 GB of video RAM and 16 GB of system RAM